Pakistan Medical Commission has announced the syllabus for National Medical and Dental College Admission Test MDCAT 2020. The syllabus has been finalized after consultation with various stakeholders and it has been ensured that no topic is outside the current syllabus of any board in Pakistan. According to the mentioned syllabus 70% of questions will be recalled (C1) from the sections of physics, chemistry and biology and 30% at the understanding level (C2).
In a recent tweet on the official Twitter handler of PMC, it is announced "The Examinations Committee completed a national conference with participation from provincial universities, IBCC and NUMS. A common syllabus has been finalized, ensuring no topic is outside the current syllabus of any board in Pakistan.

Subject Wise Content Weightage
The subject wise content and weightage in the medical entrance test are given below.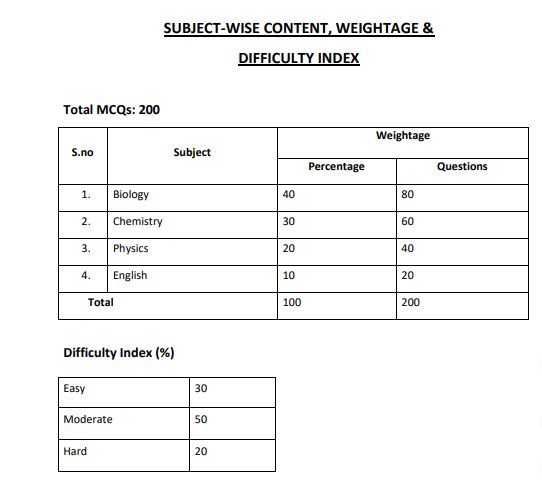 Sample Paper for MDCAT
Pakistan Medical Commission has also released the sample paper for MDCAT 2020. As per the instructions of PMC following are some important details to consider.
The test will be based on 200 Multiple Choice Questions (MCQs)
The time allowed for the test will be 2 Hours 30 Minutes
Each MCQ shall carry one mark although there will be negative marking.
Fill the bubble on the answer sheet correctly, corresponding to the question paper code.
The question will not be marked if more than one option will be selected.
While solving the paper avoid cutting, overwriting, and erasing.
Fill the answer sheet with a black/blue pen only.
The National MDCAT will be held on 15th November 2020.