The Pakistan medical commission has warned the students to not submit the fee in advance. In this regard a notification has been issued by the concerned authorities that stated that some medical institutions are demanding the tuition fee for the next year to be paid in advance this year, failing which the institution is set to take the action against the students. The PMC has clarified that such action and demand against the students are unlawful and must be stopped with immediate effect.
Directives Issued By PMC
The Pakistan medical commission has directed the medical institutions to only ask for the fees after the professional examination is concluded and the result is declared. Fee for the next academic year can be only asked from those candidates who have passed the professional exam. Otherwise, the medical colleges do not have the right to ask the fee before the conduction of the annual exams. The PMC has asked all the medical colleges including medical colleges in Islamabad and private medical colleges in Lahore to act according to the directives provided by the commission. Furthermore, the private and govt medical colleges in Pakistan must retract such demands and publicly display the retraction on their website immediately failing which the action will be taken according to the law.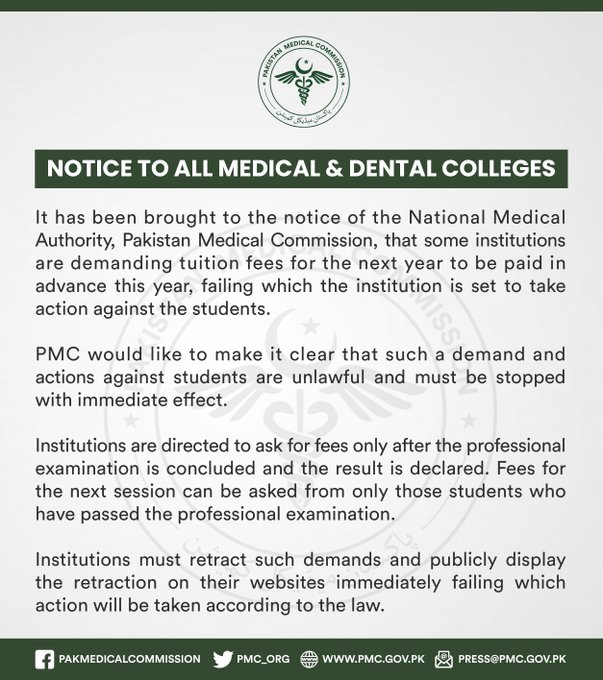 PMC MDCAT 2021
Currently, the PMC MDCAT 2021 is being conducted in various centers across Pakistan. However, many students have rejected the MDCAT result 2021 and demanded to conduct the same MDCAT for all the candidates to ensure transparency. The students have asked the commission to use the effective strategy to select the eligible candidates to get enrolled in the medical and dental colleges. It is mandatory for the students to ace the test with maximum marks to get admission to the medical college.