NSGBRM Hospital Jobs 2021 are announced and various new vacancies are posted on 10 July, 2021. Nawab Shaheed Ghous Bakhsh Raisani Memorial Hospital invites applications from medical, health, mbbs, doctors and experienced individuals for the posts of Radiologist, Pathologist, Medical Officer & Lady Medical Officer in Mastung Balochistan 2021.
Last Date to apply: 24 July, 2021
Posted Date: 10 July, 2021
Total No. of Jobs/Vacancies: various
Jobs in City: Mastung
Job Type: Full time
Organization/Department: NSGBRM Hospital
List of Jobs/Vacancies 2021:
Vacancies announced for the following posts:
Radiologist
Pathologist
Medical Officer
Lady Medical Officer
How to Apply: 
How to apply at NSGBRM Hospital Jobs is given below. Please check the advertisement for more information.
Job Advertisement:
Job advertisement is given below.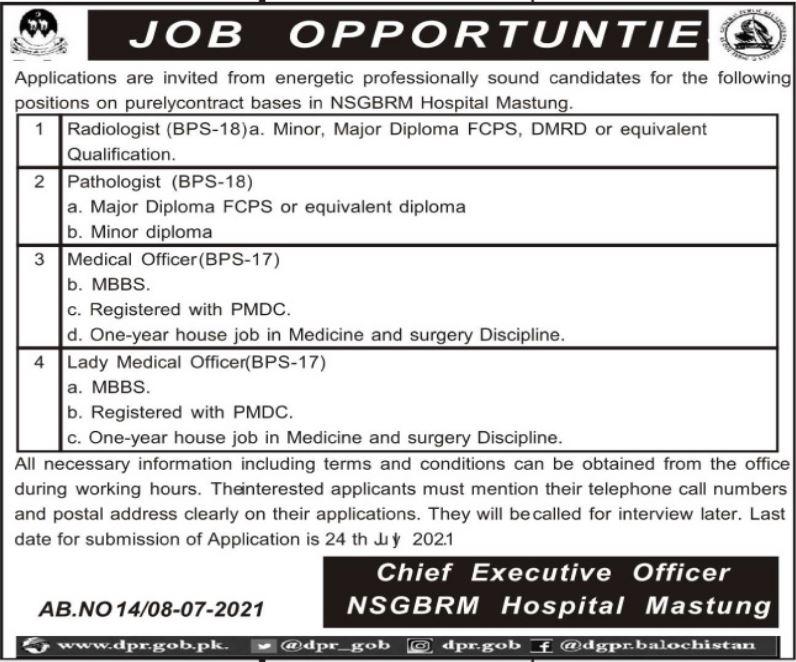 See other: Medical Job 2021