Health Department Jobs 2021 are announced and various new vacancies are posted on 28 June, 2021. Health Department Government of Balochistan is looking for medical, health, experienced and technical candidates for the posts of Anesthesia Technician, ECG Technician, Lady Health Visitors LHV, Dental Technician, Assistant, Radiographer, Medical Technician, X-Ray Technician, Operation Theater Assistant, Dispenser, Dresser, Laboratory Assistant, Malaria Supervisor, Nursing Orderly,  Laboratory Attendant, Security Guard and Sanitary Petrol in Ziarat Balochistan 2021.
Last Date to apply: 20 July, 2021
Posted Date: 26 June, 2021
Total No. of Jobs/Vacancies: various
Jobs in City: Ziarat
Job Type: Full time
Organization/Department: Health Department
List of Jobs/Vacancies 2021:
Vacancies announced for the following posts:
Anesthesia Technician
ECG Technician
Lady Health Visitors LHV
Dental Technician
Assistant
Radiographer
Medical Technician
X-Ray Technician
Operation Theater Assistant
Laboratory Assistant
Malaria Supervisor
Nursing Orderly
Laboratory Attendant
Security Guard
Sanitary Petrol
How to Apply: 
How to apply at Health Department Jobs is given below. Please check the advertisement for more information.
Job Advertisement:
Job advertisement is given below.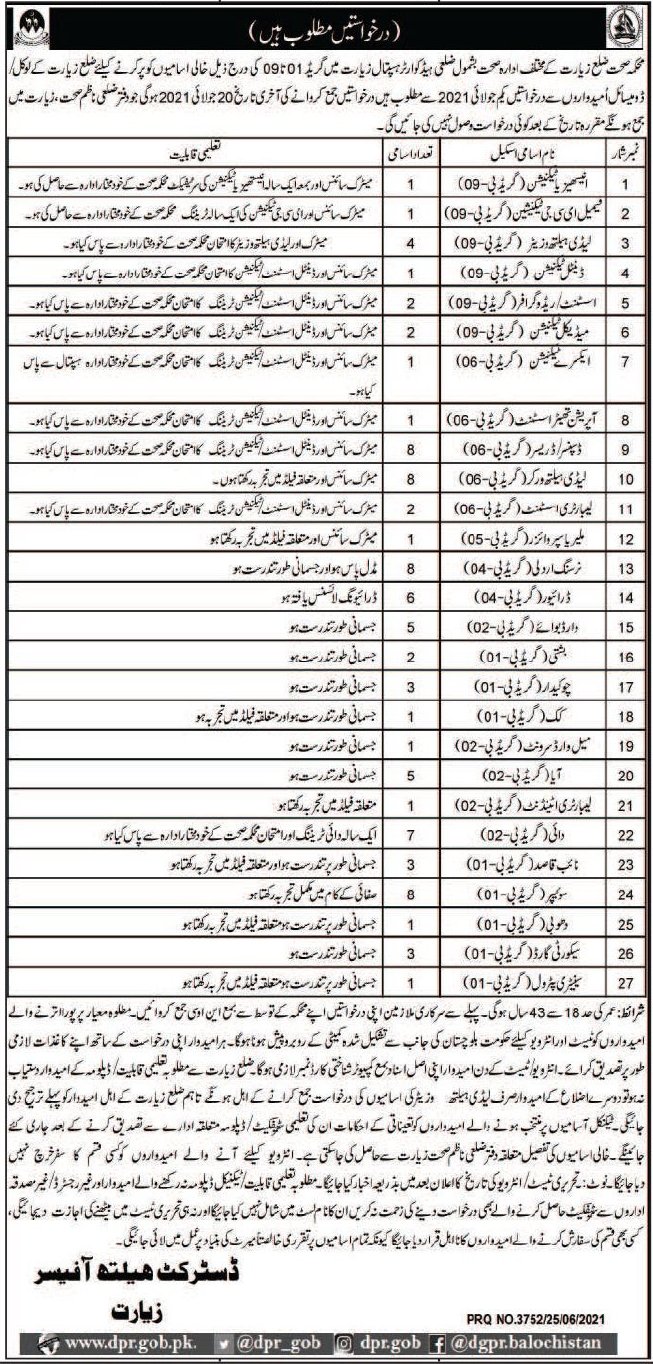 Click Here for Medical Jobs